Second week of our trip to Virginia, United States – These days were meant to get a clue of what it means to be a student at the ODU. Excited and full of expectations we were taking part in different classes. We could choose several subjects from totally different bachelor and master studies. Instead of subjects we used to have in Germany, some of us tried to visit new courses. That included foreign languages, psychology and theater. It was more than just a normal lesson where you get some specific knowledge about the topic. The German students get involved in the community- get connected to Americans. Furthermore, we got an overview about the relation between the students and the professors.
At the beginning, we realized that a lot of students write several exams or tests over the semester. We were confused and tried to find out what is going on. At our university it is common to write one big exam at the end of the semester. In comparison to our studies they write three to four test papers. Finally, we found some courses we could take part in. The students seemed to be very calm. Just sitting there without talking. Some of the participants were quite interested in the topic, while others were constantly checking their phone. The professors were running fast trough the subject matters. The teachers were standing in front of the class, kept talking and talking. In contrast to classes at the Magdeburg-Stendal University asking questions was not that common. To give you an overview of more differences, we collect some impressions of our stay at the ODU. Below you will find a short profile about three students which were visiting several classes. They will give short answers to several questions.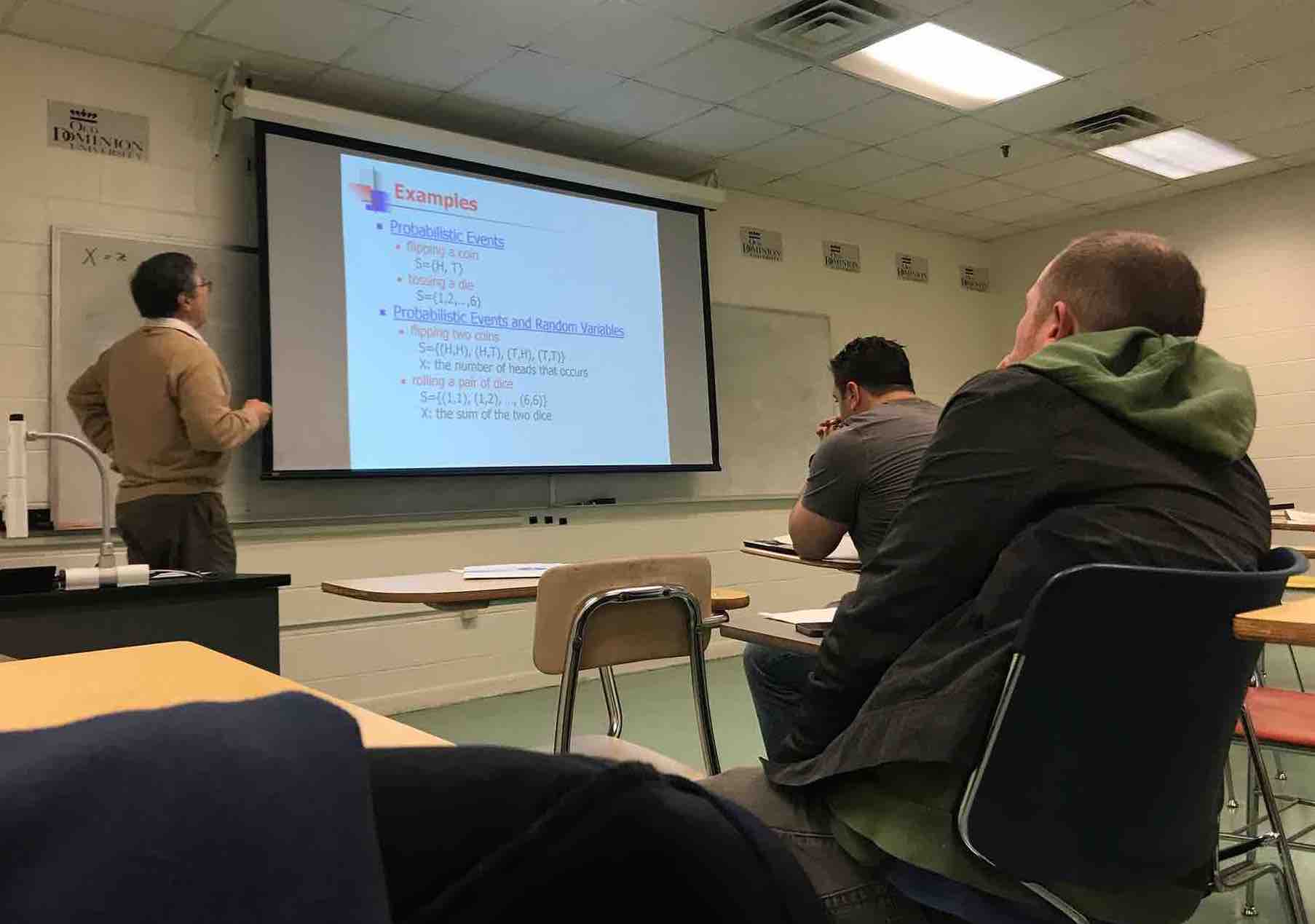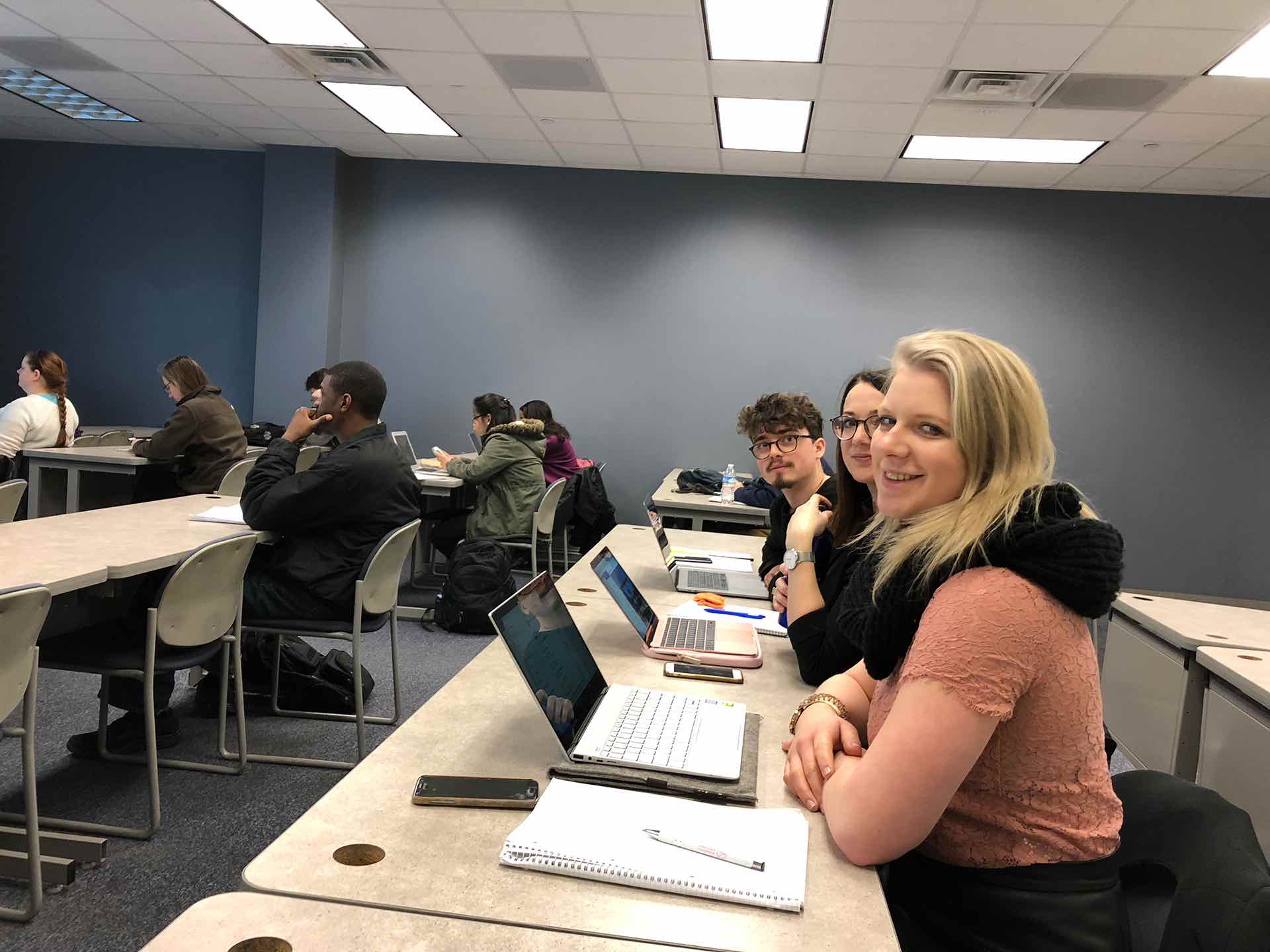 ---

Jenny Miosga
29 years old
Graduate student of Electrical Engineering with focus on energy technic and automatization
interested in motorsport, American football
Which classes did you visit?
I took part in a theater course as well as in some classes in the Department of Electronical Engineering
Why did you choose these courses?
The first one is totally different to my main subject. I chose theater classes to improve my creativity. Furthermore, I wanted to comprehend the theater course with the cliché I had in mind from the television. I chose the engineering course to figure out similarities and differences with courses at out university.
Which experience did you get from these courses?
In Engineering we attended a lecture on information theory. The content was similar to ours. The biggest difference to our courses was that the teacher almost did not interact with his students.
The theater class was totally different to what I imagined. They were talking about theory instead of standing on the stage and practicing different facial expressions. The students were informed about the history of the costumes.
Finally, I am happy that I took part in both classes. The main difference is the delivery. But as in Germany this also depends on the professor.
---

Laura Drischmann
22 years old
Undergraduate student of Business administration
Interested in sports, especially in Handball, retail management, travelling
Which classes did you visit?
I visit several classes. Most of them are close to the subject I am studying. All of them had to do with business and economics. Which was new to me was the course World Resources and German as a foreign language.
Why did you choose these courses?
Basically, I decided for these classes because I am interested in Business and Management things. Furthermore, World Resources is not only a topic I really like to talk about, it is also a topic which is urgent and should be discussed nowadays. The decision to join a German class was actually not my idea. My friends wanted to go there, to see, how students in the US learn German. Since it is not a language that is widely spread, I thought- yes, that is a good idea, so why not.
Which experience did you get from these courses?
These courses gave me a lot of input in different ways. I realized on the one hand that they are going really quick through the content. At the World Resources classes, it was nice to see, how the teacher tried to make the students be aware of a sustainable lifestyle. As a homework they had to find out which products (e.g. how many eggs, how many water) they use every day. The professor wanted to show how many earths would be required if everybody would life like they do.
The German class was a big surprise. For me as well as for the teacher. She emigrated years ago to the States. We practiced a form of speed dating to get to know each other. It was the perfect way to get in touch and to exchange some experiences. Some of the Americans are even planning like to come to Germany as well.
There is much more I could talk about, but the best way to learn things about the American way of studying is, to come here and do it.
---

Franz Beuster
27 years old
Graduate student of Enterprise Risk Management
Interested in surfing
Why did you choose the psychology class and what expectation did you have?
The topic has always been interesting to me. However, I never got the chance to actually study it. So, I took the opportunity and attended this course. I really had no expectations since I have never been in a psychology class. I just hoped to learn anything about human behavior.
What did you think of the class?
The topics were familiar, but still quite interesting. One topic in our 50min lecture has been the Stanford-Prison-Experiment, which is not only an interesting experiment, but also a great movie.
How did you like the teaching style?
The teaching style differed quite a lot within the university. As always, the teaching styles depend strongly on the teacher himself. Psychology has been a standard lecture. The professor was constantly talking without almost any student interaction. Math on the other hand has been quite entertaining with a professor who was telling jokes and making Math fun.
What differences did you notice compared to Germany?
Except for the facilities there is no major difference in US academic classes compared to Germany. It seems pretty much the same.
I would like to say thank you to these three students for sharing their impressions with us.
---
The Brewery
In the evening we headed to a brewery near the ODU. There we met Michael L. Nelson (Blog), professor of Computer Science and some of his PhD students for a get together.
This gave us the chance to have a nice conversation with some locals. It was actually interesting to learn how the students think about their studies and of course about their study culture. On the other hand, even for them it was interesting to get some facts about us and our different ways of study – for.eg. full time studies, half time studies, extra-occupational studies as well as the fact that our study is free of charge beside of the small fees which we have to pay for each semester. The brewery was interesting and full of history.
"20 years ago Kevin O'Connor wrote his final college paper on starting his own brewery, and on St. Patrick's Day 2010 O'Connor Brewing Co. brewed its first batch, becoming one of Coastal Virginia's very first craft breweries. What started from humble beginnings in a small garage warehouse has expanded to become a World Beer Cup Award winning brand, with 40 employees, dozens of styles, and a growing legion of fans who choose O'Connor beer for its quality and consistency. With El Guapo Agave IPA leading the way as the #1 Virginia craft brand in the state, O'Connor Brewing is well on its way to becoming Virginia's leading, independent craft brewery. And as distribution continues to expand up and down the East Coast, O'Connor Brewing Co. moves further along its path to becoming a major mid-Atlantic regional brand, as well as one of the best craft breweries in America".
This nice brewery, with indoor and outdoor seating has a bar inside and a nice selection of their craft beers as well as various souvenirs for purchase. Furthermore, you can peak into the actual brewing area while enjoying your beverage.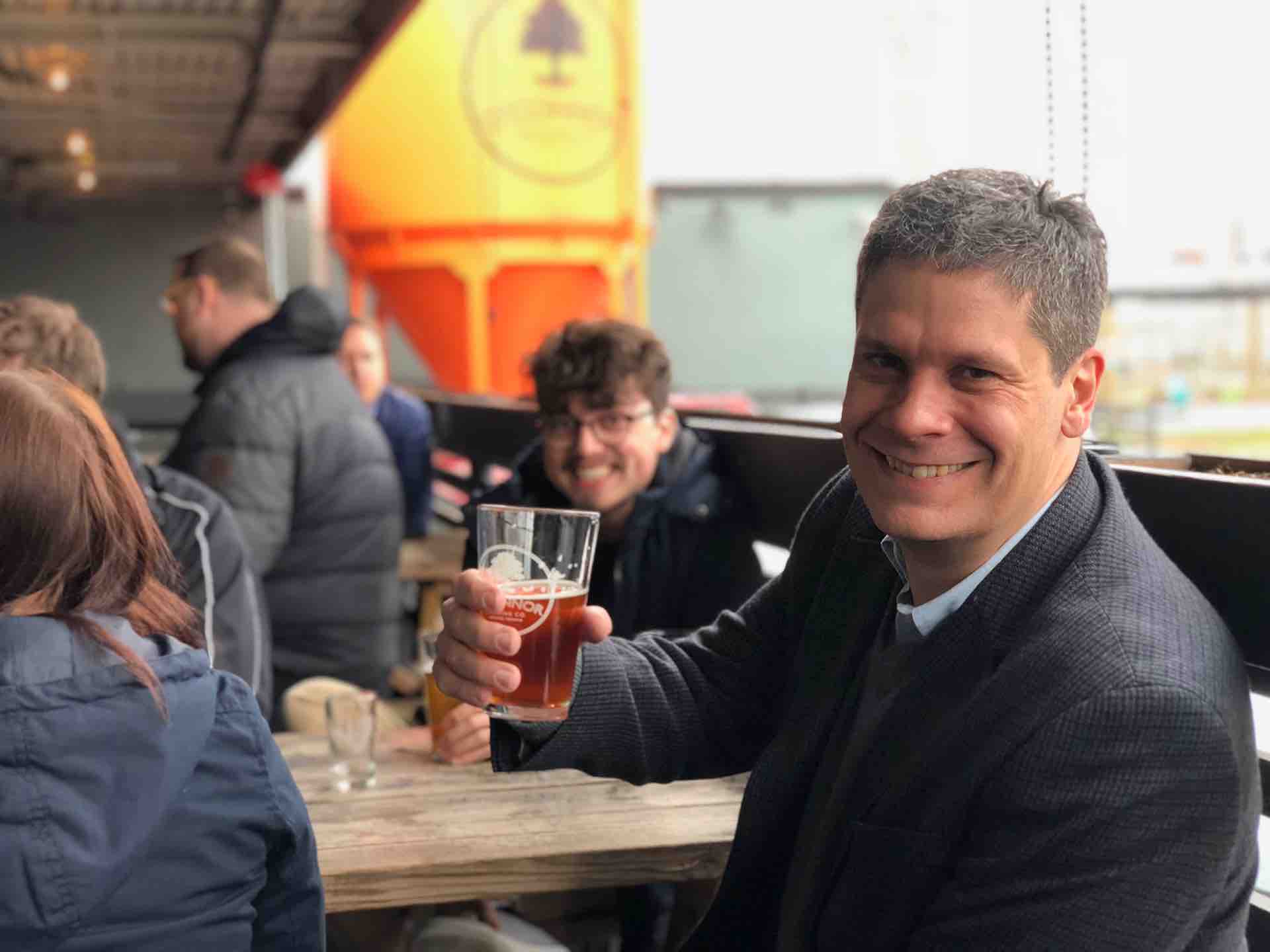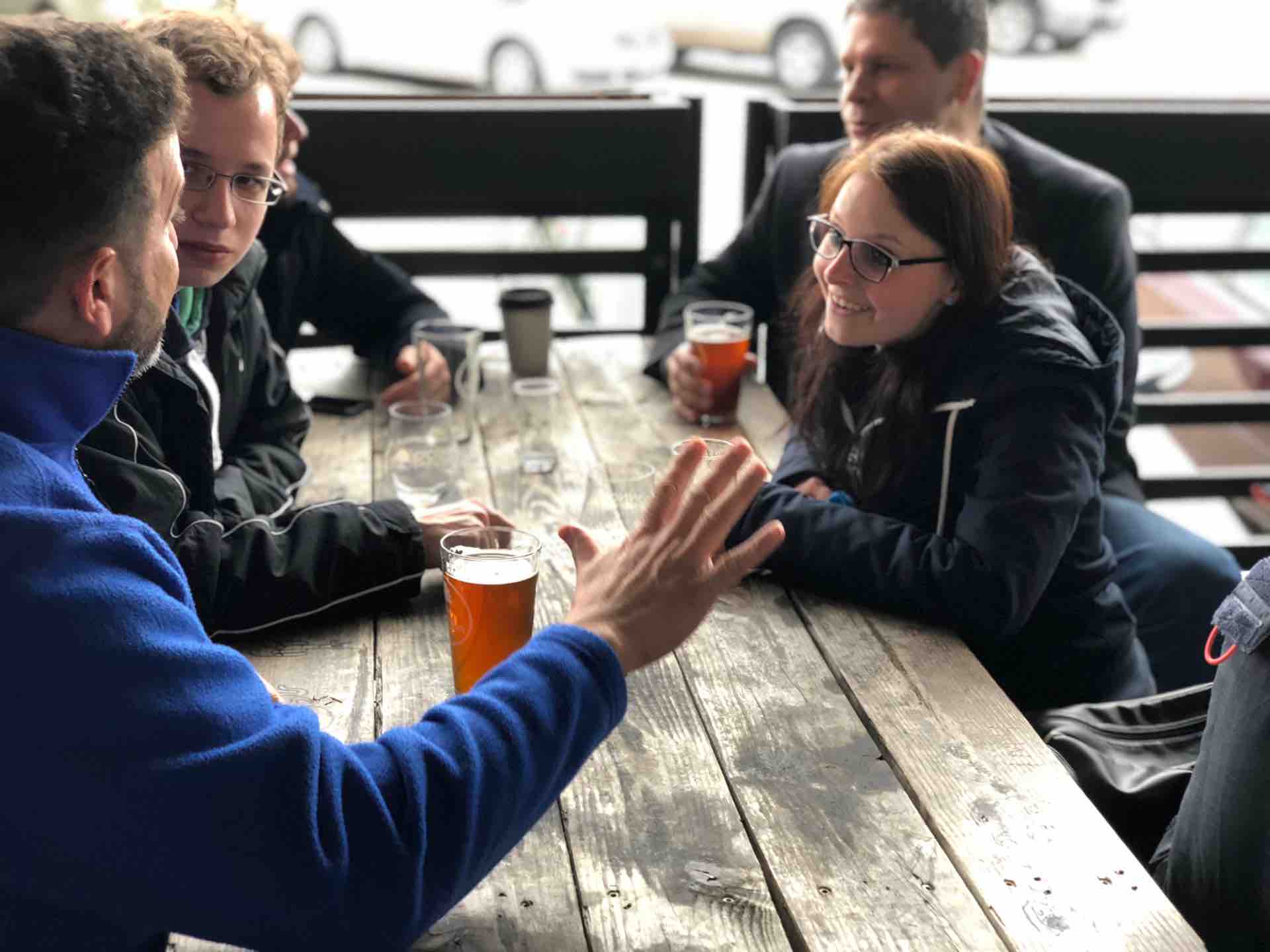 Author: Anne Evers // Business Administration