3 Teams, 3 Ideas, 3 Pitches – who will get the award for the best business idea?
We started today with a big challenge ahead of us, we had only one day to come up with an idea for a startup, but we were not alone. We teamed up with a couple of computer science students from India. These exchange students were with Professor Ajay Gupta, who hosted the event. Every team got 2 computer scientists paired up with 2 economic students and 1 designer from our german VAST group. After we quickly got to know each other, every team of five started brainstorming for potential business ideas and had to decide which one had the most potential. We managed to get some task sharing and planning done before we interrupted our work for another working session and our lunch break.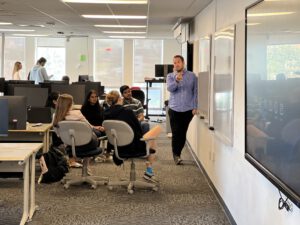 Lunch break at Strome School of Business
We were welcomed by Prof. Elko Klijn and Prof. Weiyong Zhang, who gave us a tour through the Strome college of business, a part of ODU founded by a huge investor called Mark Strome. We meet Andrew Cohan in one of the trading rooms where students learn how to trade. Prof. Cohan is a former successful trader with a wild background story. After making a ton of money on Wallstreet, he wound up through a giant pyramid scheme and lost all his money.
Fortunately, he is an excellent poker maniac who managed to win back more money than he lost.
After this, he decided to become a professor and teach students about business.
So we went to our guest professor's classroom and saw a presentation about the differences between german and American cultures. Meanwhile, we got in touch with some US students and had sandwiches and pizza for lunch with them.
We should have played a card game together, but the conversations were way more fascinating, so we talked all along.
Finally, the lunch break was topped off with a gift, ODU fan polo shirts.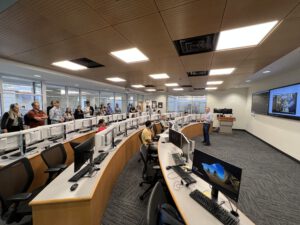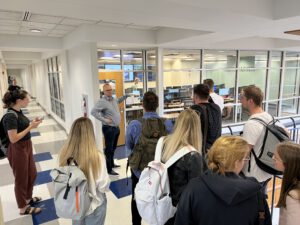 Back to the shark tank
We got our heads into the game for the next couple of hours.
computer scientist- did computer sciences, economic students – did economics
designers – like me – did design stuff
Team one, named 'Obsolete', invented a mobile app that allows users to travel back in time to famous places to learn about their history.
The app can collect pictures from a database about a certain place, and an AI matches them together for a 360° image of the place. So the user can have a great experience over the cause of time.
Team two is called 'Universe'.
They came up with a blockchain-based system that improves international university grades' comparability. So this tool would provide a safe way for students to collect their grades and use them to apply for a semester abroad or a master's degree in a foreign country.
Team tree 'Career mandir' developed a platform to help Indian students to gain a foothold in the IT-Industry. On the one hand, people get the opportunity to improve their software development skills.
On the other hand, the Tool connects young developers to big tech companies and their dream jobs.
After seven hours of work, we pitched our ideas to several potential investors from silicon valley and around.
These sharks gave us some valuable, and after a short consideration and voting, the winner got announced. The third Place went to Obsolete. They got overtaken by Team Career Mandir – 4 sharks would have invested in their idea. Six Sharks got convinced by Team Universe. So they won this Challenge.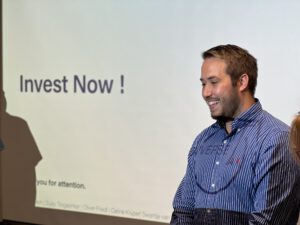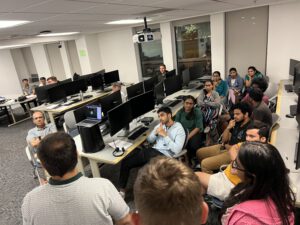 At the End of the Day, Professor Ajay Gupta invited us to have some delicious Indian Food with him and his students.
-15.09.22 by Lenz