Sunday, Funday – Here we go
On Sunday our group decided to split due to different plans. Therefore I'll be able to tell you about two very exciting stories.
Our first group went to the Outer Banks. All further information will be based on the individual stories i got told because I wasn't part of that group.
They started their trip by visiting the Wright Brothers National Memorial and its museum in North Carolina. Being guided by a ranger, they got to enjoy a pretty impressive tour. Afterwards they had lunch at a restaurant (a small family business with a pleasant atmosphere) which is very recommendable. It's called "Lisas Pizza" btw and if you get the chance you should definitely try it out!                                    
The group continued their tour until they finally arrived at the Outer Banks. According to them it was pretty stunning. Despite of the fact that the currents were pretty strong and the waves quite high, they went swimming. Furthermore they've been rewarded with a breathtaking view and guess what … they also got to see dolphins! (I'm so jealous right now tbh)  After leaving the Outer Banks they stopped for dinner at Hooters which was … delicious. All in all, it was a great exeperience although a 6 hour ride can be very exhausting. But it was worth it!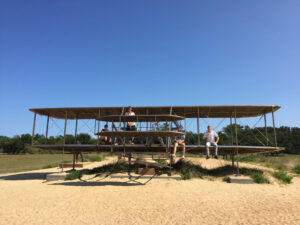 Let's continue with the experiences of the second group, including myself. We started our day with a drive to Downtown. We went for a walk at Norfolk harbor where we got to see the Battleship Wisconsin. We were simply amazed by its huge size and its construction. If we had more time, we would've taken the chance to explore the Battleship by walking on it. However, we intended to do so much more things that day that we had to resist visiting the ship.
We went on to the Norfolk Premium Outlets for a shopping trip. It was pretty good there and we all made at least one find. Nevertheless, we must admit that it hasn't been much cheaper here compared to our German outlet stores. But if you are a bargain hunter (and you're not pressed for time) you should take a closer look at the clearance stands to find some very low-priced clothes.
Still having some adventures planned, we continued to the NAS Oceana Air show in Virginia Beach. It took place on the navy base which was so cool to experience. Not only because of the fact that the "Blue Angels" (a very famous aerobatic team of the US navy) did an insane job, but also because it was a great feeling to walk around on a navy base you usually get to know out of movies…     
Given the fact that the day was not over yet, we drove to Sandbridge beach (the beach selection was called "Tuna Lane") to join Mr. Herzog. Having dinner during a wonderful sunset accompanied by the sound of the sea … we can definitely get used to this.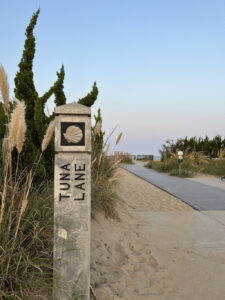 After we finally arrived back at our hotel we let the evening fade away by enjoying some cold drinks together with our Indian friends.
Justine Barte, dual course of study – business administration, 18.09.22