The students of ODU told us that their university will have a football game against the University of Virginia in Charlottesville on Saturday, September 17, and they would be very happy if we would go to watch the game as well. We were allowed to make our own plans on Saturday anyway, so we decided to go there.
The night before, we've met two american cigar salesmen in front of the hotel with whom we had a long conversation about many different topics. One of the topics was the football game. I knew that football is as popular in America as soccer in Germany, but I thought that since it was only a game between universities, it might be smaller.
Well. I was stunned when I got to know, that the university has a visitor capacity of over 60,000.
The cigar salesmen told us that ODU had no chance, but we were still highly optimistic for our team.
The drive from Norfolk to the Scott Stadium in Charlottesville took almost 3 hours.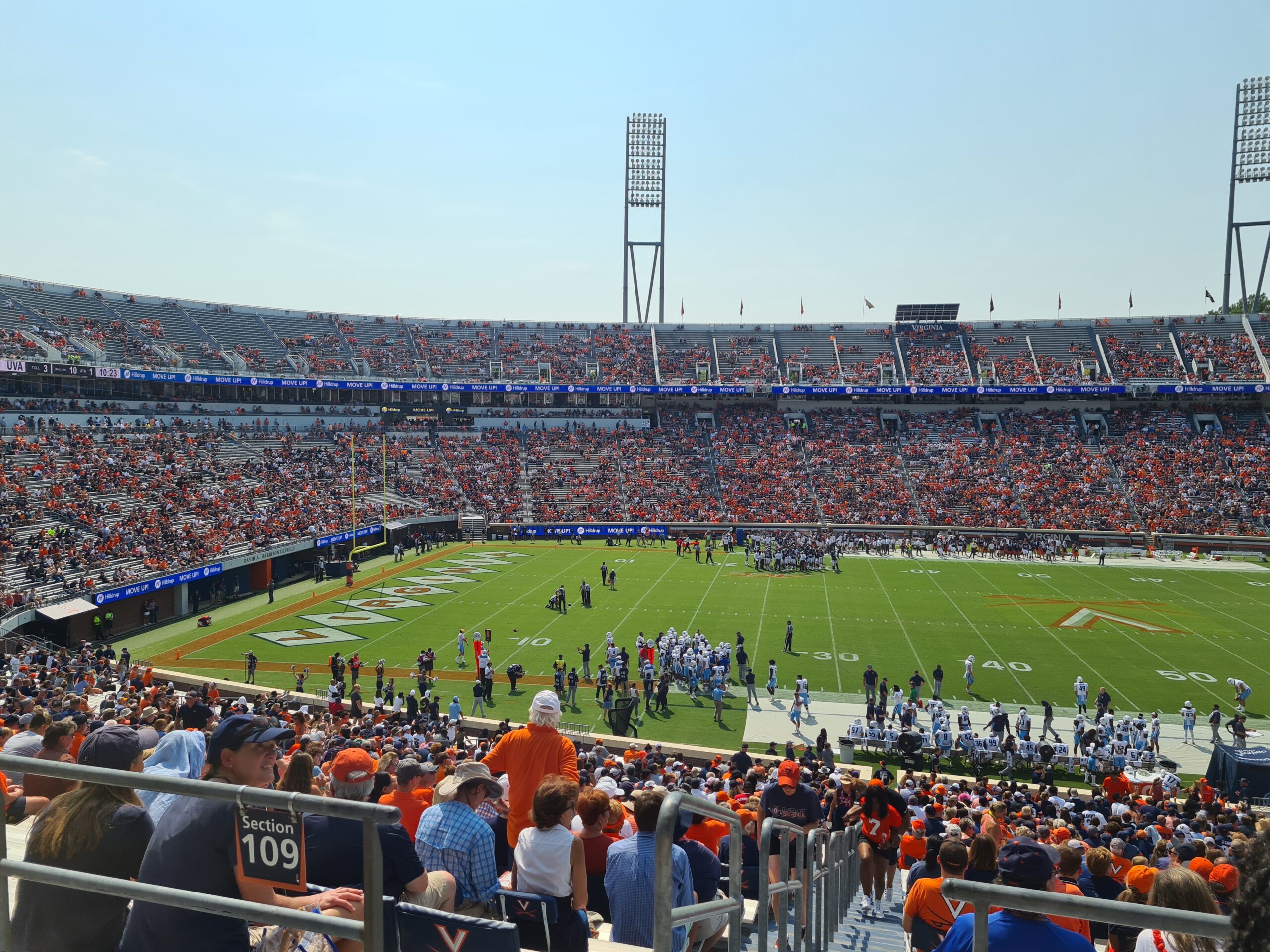 Like just mentioned…60,000 visitors for a sold out game, that's quite a lot. And can you guess what this means in the US? A massive traffic jam! On top of of that, almost every smaller road was blocked by police. Therefore it was not an easy task to find a legal parking spot. Hoping, that our car might still be waiting for us after the game, we slowly made our way to the stadium.
There we explored a truly american experience – "Tailgating".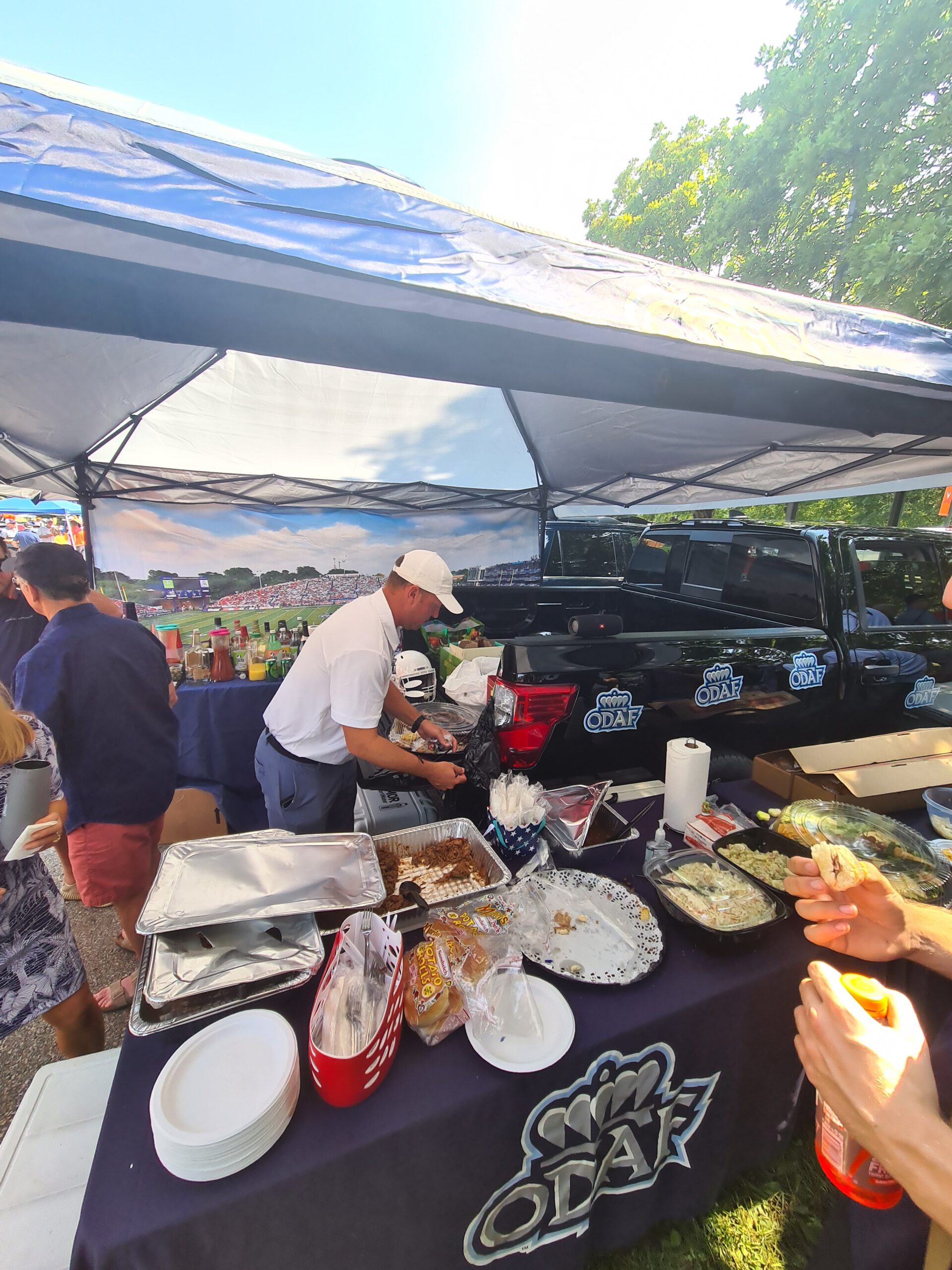 This is when fans gather several hours before the game in nearby areas and barbecue together. We went to the corresponding "tailgating" with ODU-shirts and were immediately warmly welcomed. It was like a big family event where you had to tell all your aunts and uncles your complete life story. We always said that we only made the long trip from Germany to see the ODU game. This directly earned us sympathy points. The point of "tailgating" is that everyone brings something and everyone can take whatever they want. We donated beer and got some food in return. Afterwards we went to the stadium together and took our seats.
When we arrived at our seats, we noticed that we were surrounded only by opposing fans. But there was no trouble. We even got along very well with some fans of the other team.
The game did not start well for ODU. After a short time it was already 7-0 for Virginia. Through good tactical play, ODU was able to score a touchdown on it, which gave them 6 points. As a very strong support the Monarchs (that's what the players of ODU call themselves) brought their marching band as well as their very pretty cheerleaders. This combination kept us in a good mood, even when Virginia scored more points. The score was 14-6 for the University of Virginia later in the game. By now we were losing hope. Some former ODU players we met before, were visiting us. At this moment they were also not very optimistic.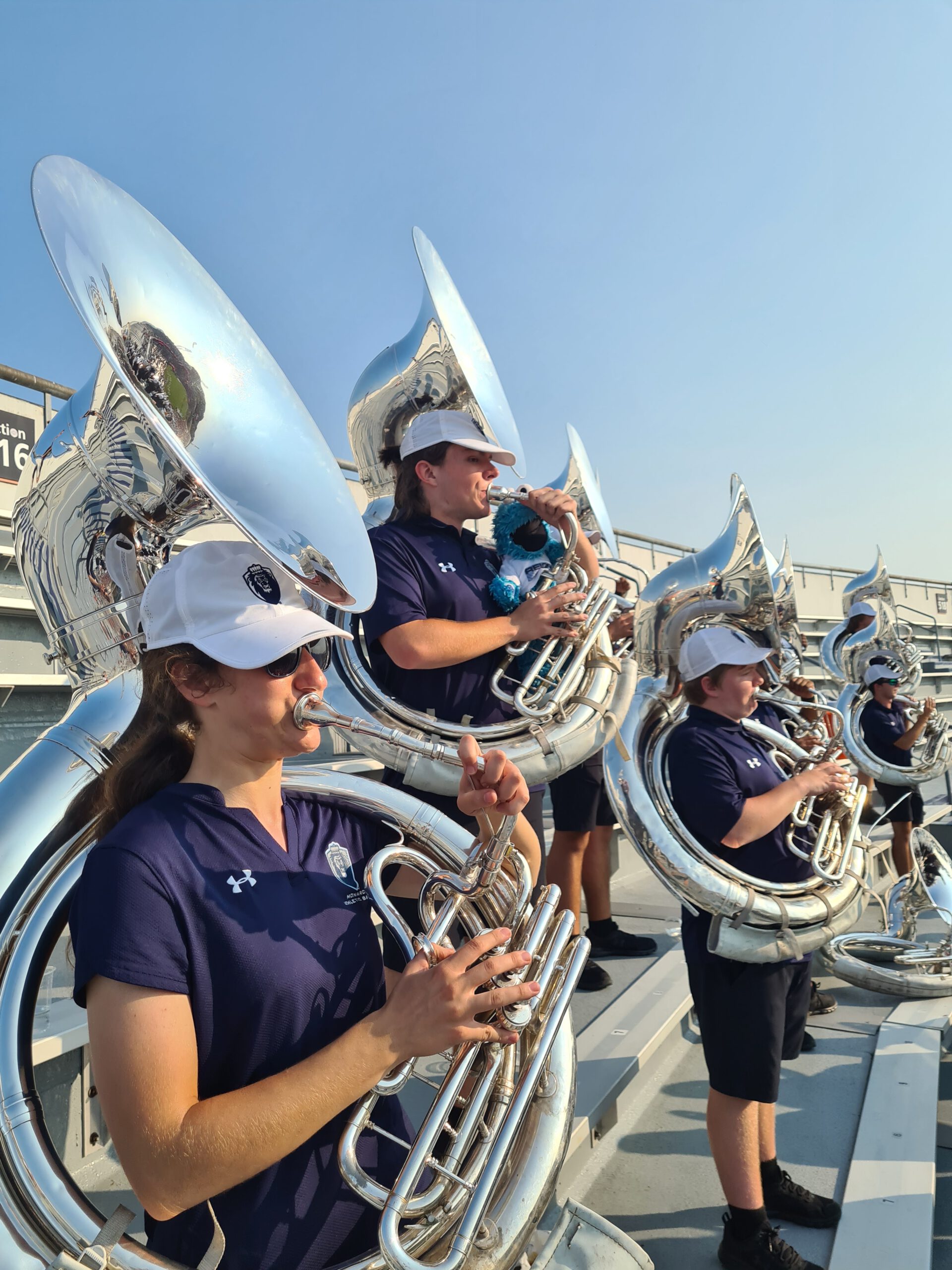 There were only two minutes left to the end of the game. It seemed already decided. The coach of the Monarchs called a timeout. After that, the unbelievable happened. Within a minute the ODU delivered perfect plays and then … TOUCHDOWN!!!! All the fans jumped for joy. In addition to that, the PAT was also hit. That is the point after touchdown, a shot through the goal. So now the score was 14-14.
Because ODU was the guest, it would have been their win. Would have been…
Due to the new tactics, the defense was badly set up and Virginia was able to advance very far, so after the 3rd failed advance attempt in front of the last yard, they were able to take a shot, which flew into the goal. And that happened within the last 2 seconds of the game, so ODU lost 16-14. I felt bad for the Monarchs.
After the game, one of the old players arranged a meeting for us with a current player, so we had a chance to talk with him a little bit.
It was a very interesting and intense day with many new acquaintances and important cultural exchange. For me personally, it was also a dream come true. American Football in America. What could be better?
Written by Daniel Menschulin